Hi guys
How's life going on?? Today again I am here to share a poem with you guys. Ah no it is not made by me so u don't need to bear me :D . The thing is my life is too much busy in making my career. I have just isolated myself from the world around me. You can say I have lost the relations and friends as I couldn't give them time and importance as much I love them. And they couldn't understand me, so they left me behind. And right now I don't have any kind of regret for that. But it might be possible after few years I"ll think about the dear ones. :) The poem which I am going to share is something I will think when I"ll get time for myself and sit quietly.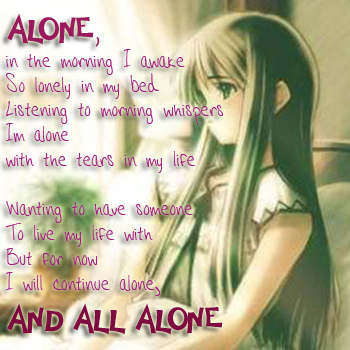 So here we go..
Aaj na jane kyu rone ka man kiya,
Maa k aanchal me sir chhupa kar rone ka man kiya,

Duniya ki bhag daud me kho chuki thi rishtey sab,
Aaj kyu un sare rishto ko ek sire se sanjone ka mann kiya,

Kisi din bhid me dekhi thi kisi ki aankhe,
Aaj phir un ankhome khone ka man kiya...

Roj sapanose batein karati thi mein,
Aaj na jane kyu unse muh modne ka mann kiya..

Juth bolti hu apne aap se roj me,
Aaj na jane kyu khud se ek sach bolne ka dil kiya..

Dil todti hu sabka apni bato se me,
Aaj na jane kyu ek tuta dil jodne ka dil kiya...

Na Jane kyu aaj rone ko man kiya..
This poem is true for all those people who are running for their career, business or money.. I would like to say one thing I have never given importance to money more than my relations or friends but my friends got busier in their life and left me alone behind so I made myself more busier and see now I am happy. Because my funda is be happy and at least try to make others happy in any situation. Because you get life only once and anyone's presence or absence never stops life. So try to enjoy each and every moment in a way life wants. If you are alone then enjoy loneliness as it has it's own fun if you see. And if you are in crowd the enjoy there as well. :) Try this once. I am sure you will fall in love with life, just like me. So say cheers to the beautiful and precious gift given by God and our parents called LIFE. :)
So it's time to go. This is R J Aashaka signing off for now. Gooooood Bye.... C U.. Sabba kherr.. And I"ll catch you soon at the same place ;) Till then be happy and make others happy :)